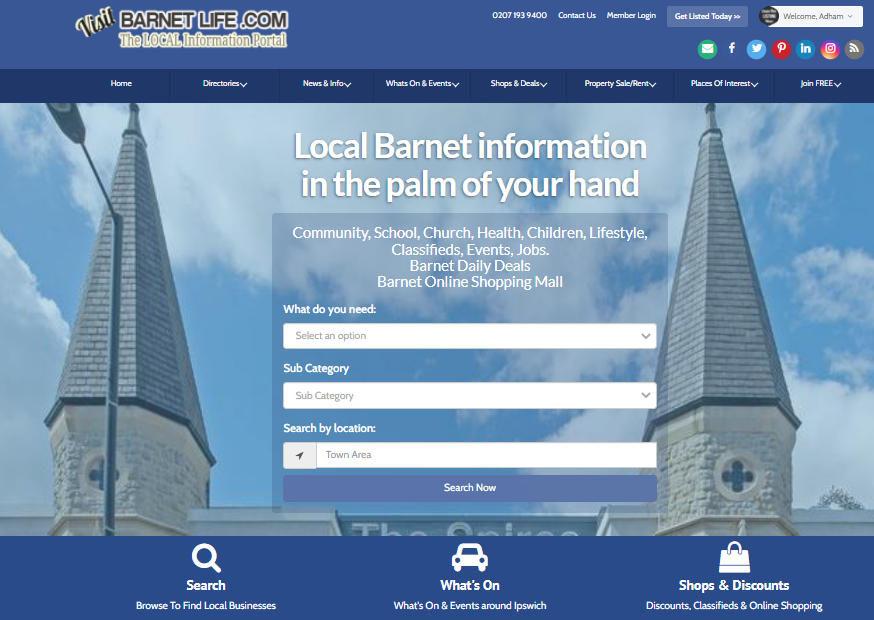 Work From Home!
Investment £12,500 +VAT
Income potential £60,000+pa
Online "Your Town"
Community Website Franchise:
The pandemic has both driven businesses to realise they need a local online presence, in addition, the rest of us have become more reliant on online shopping, finding businesses and generally navigating online.


What are you investing in?
We have a platform that has literally cost over £200,000 - You get the benefits for a fraction of the developed price.


FRANCHISE AREAS ARE LIMITED - YOU MUST ACT FAST WITH AN INITIAL APPLICATION OF INTEREST HERE:



Your initial investment covers:
Training on all aspects of running this business from home.
The small investment includes a fully populated platform, domain name, SSL, 2000 to 3000 added local businesses.
Many local and lifestyle articles.
Phone scripts - Email scripts.
Business backup. Google ads on your town backup.
Facebook/Instagram business pages.
Backup from our team of professionals.

Tutorial weekly online training.
======================================
Estimated Income streams:
Business directory:
£9,500 monthly
Online shops for business:
£4000 monthly
Advertising:
£3000 monthly.
There are many more income streams
We will explain when you apply.
After Franchise fees, you will easily have a £60,000 pa income.
================================
What's this all about??

Online business directory local:

Well, there are online directories for business, however, you have to actually go to that website so offer limited benefit to businesses.
Yell.com can cost a small business £400+pa and in both my business experience and comments from customers Yell.com is a waste of time and money.
Your local community website/APP will have 2000 - 3000 pre-populated businesses added by our staff.
Schools & Churches + more.
Events:
The place to go to see all local events, shows, school, charity, church.
All event organisers will be able to add events FREE.
Driving regular visits to the platform

Online shopping:
From the big names is normal these days. For a smaller local business to start an e-commerce website and business it will cost around £2000 - £3000 to set up Plus hosting and SSL plus ongoing monthly maintenance fees. Then has to be promoted by Google ads or SEO, a good £300 a month. Oh, I forgot... 80% of business owners don't have the time or even the technical know-how.
Your local community platform will allow local businesses to sell products online for a small fee of £39 - £75 monthly.
Not only saving them £1000's but a place where locals will visit often.

Classifieds:
Yes, there is Gumtree and the like. Again you have to search out the town category and then actually visit the website.
We allow local people to advertise their "Stuff" FREE on the platform.
This drives more visitors to the website

Property Sales/Rentals
Yes, local agents and landlords can advertise property for sale/rent on the platform.

Jobs:

A FREE jobs board for employers to advertise openings

Local community news and articles:

The platform allows businesses to add articles. images, videos for interesting reading.

In addition, any signing FREE local member can add articles, could be about a charity a school a site to visit.

These articles drive visitors by Good SEO and interesting content.

Places:
By listing the majority of culture, places to visit, tourist sites, museums both locals and tourists will get a taste of what to see in your town.
Daily Deals:
Groupon is big, BUT, big BUT, they charge a fortune, take a £100 item. Groupon wants the trader to discount by 40% - 50%
Leaving the trader with £50 Then Groupon wants 50% of that. Leaving the trader with £25 out of £100.
We do it differently... for the monthly business fee, the trader can make as many daily deals as they want - for the flat fee of £35 -£75 monthly
This is a limited opportunity if your town is taken, you can choose another, but, expect all UK towns to be fully taken soon: